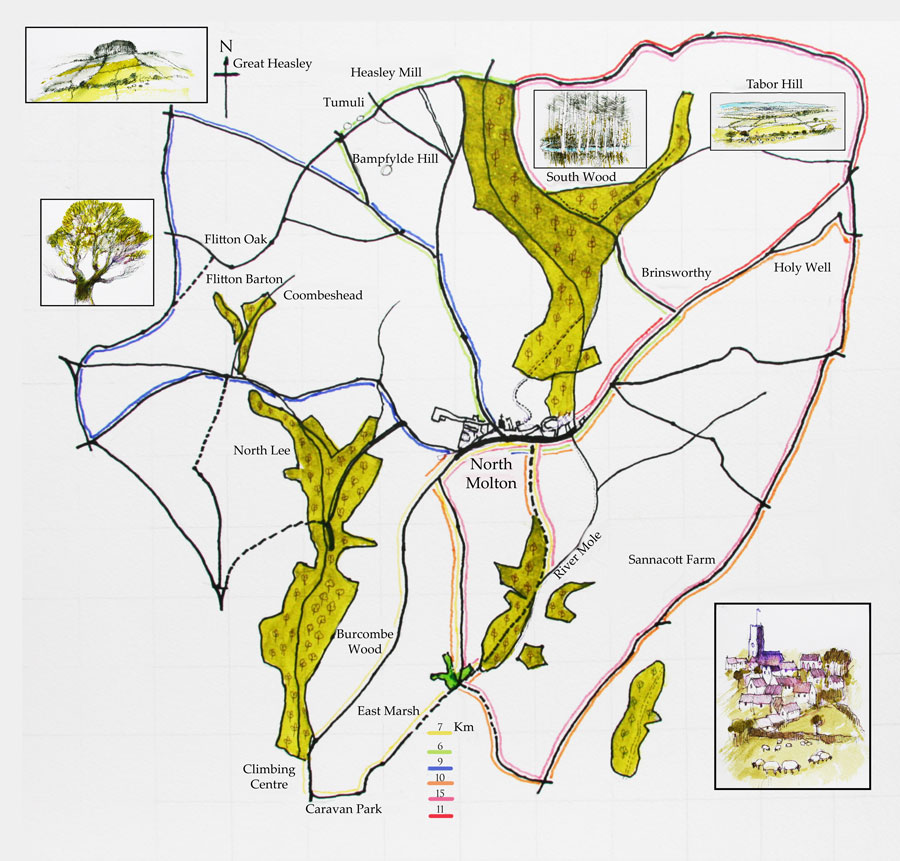 The Poltimore Inn is a perfect location as a base for walking around Exmoor. To help and guide you, we have six different walks available, all starting from the pub and for different physical abilities. All of our walks are primarily on the roads, they are well sign posted and easy to follow as well as some riverside walks along the River Mole.
The Politmore Inn walks all start and end at the pub, they range from short walks of 6km to longer walks of 15km. The walks vary with some routes taking you along the side of the picturesque River Mole and then up on to Exmoor's Tabor Hill, with unmissable views out towards Hartland Point and the Taw and Torridge Estuary towards the west.  Included in some walks is a trip past Heasley Mill, dating back to the 19th Century with a still intact water wheel. Then on towards Bampfydle Clump at the top of Bampfydle Hill, this is the collection of Beech trees that you can see from the link road and  from other highpoints on Exmoor. Legend has it that an ancestor of George Bampfydle, possibly Amas Bampfydle, planted the trees as a landmark in the centre of the Poltimore Estate so that they could judge their position whilst hunting, this was a major past time of the Barons of Poltimore and bought in extra income for farming tenants on the estate who could barely make ends meet without it. There is also the idea that the plantation was for the benefit of miners to provide them with a landmark to direct them to the nearest pub!
In all, the six different walks that start and end at the Poltimore Inn offer river walks, stunning views and cater for people with different walking abilities. More information on the walks are available at the Poltimore Inn free of charge, just pop into the pub and pick up your route plans and look forward to a well-earned drink at the end of your walk.