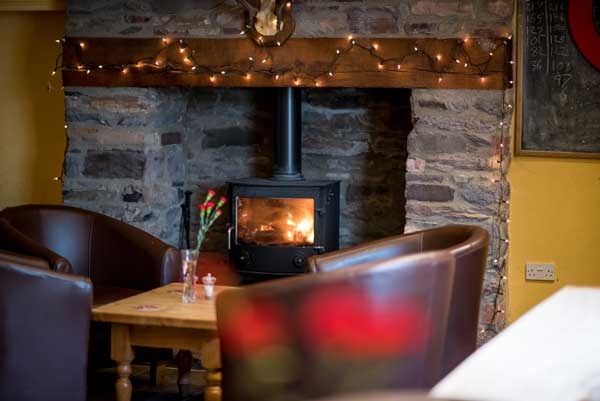 Many of our customers have expressed an interest in the story of the rise from the ruins of the Poltimore Inn, as this now thriving pub was virtually derelict when the current owners took it over. The entire process of buying the Poltimore Inn to opening was lengthy and the story is well worth recording.
Alan Boddington bought the Poltimore Inn in October 2012 from a large pub chain, it had stood boarded up creating an eyesore in North Molton for over a year previously and the interior and exterior condition of the building was poor to say the least. Alan saw the potential from the start, a great location in the centre of a village that had a strong community, coupled with fantastic views to the rear over rolling North Devon countryside. Despite protracted and complicated negotiations, the deal was completed and planning permission was given in January 2013, work on the renovations could progress.
It would take a full ten months and a significant investment to resurrect the Poltimore Inn from it's virtual derelict state, very little could be saved. Exterior buildings including the steel roofed skittle alley were demolished, whilst parts of the old building that could be saved were retained to keep as much character as possible. The end result is now a stunning interior that has maintained as much of the character of the old building, with the addition of a new restaurant boasting superb views to fulfil the vision that Alan had in his mind. The restoration was sympathetic to the character of surrounding buildings in North Molton and in keeping with the Exmoor countryside, but with clear definitions between the new and old sections of the pub in line with heritage restoration guidelines.
The old derelict outbuildings are now gone, the original barn end now sits inside the modern restaurant marking the move between the new and old parts of the building clear. The restaurant skilfully but subtly incorporates two skittle alleys with false cupboards that retain the alley ends so that the room can be used as a skittle alley and a modern function room and restaurant seamlessly.
The opening night on the August bank holiday of 2013 was supported by the community of North Molton and beyond, a new lease of life was bought back into the pub and the community as a whole with the Poltimore Inn serving locals not just great food and drinks, but also as a hub for a wide range of groups and for local events.