Live Events
At The Poltimore Inn, North Devon
Poltimore Inn Facilities, Functions and Entertainment
The Poltimore Inn hosts a range of events throughout the year including public events and private functions. 
Music nights range from Irish to Folk and Jazz nights and take place throughout the year roughly once every two months with different styles and tastes being catered for.
The Poltimore Inn has four mens' skittles teams and two ladies' skittles teams that compete in the South Molton League. All are welcome to come and watch at our skittles evenings, the atmosphere is fantastic, competitive and friendly  with the local crowds backing our teams. There is also a pool team that also competes in the local league.
Wifi is available on the premises free of charge to all, this includes our guests that have come for food or drinks as well as those that are staying with us overnight. There is a tv in the front bar used for sports and special occasions on a low level. We do like to support the rugby and the Six Nations is always on and you will often find a tailored meal to a game, these typically include Jocks Pie for England Versus Scotland, Irish Stew for England Versus Ireland, Pasta for the Italian game and boeuf bourguignon for the French game.
Disabled toilets and separate ladies and gents toilets are available, the inside of the pub leading to and including the restaurant is all on the same level and is wheelchair friendly and there are baby changing facilities in the disabled toilets for both mums and dads use.
Around the Poltimore Inn you will find a range of local art and sculptures. We have several stainless steel sculptures by Bob Morgan from Lee in the garden area with picnic benches perfect for enjoying the view. Local landscapes and scenic lifestyle paintings inside by Collin Allbroke and Ken Hilldrew are available to view and these are changed regularly.
Group bookings are available for private functions at the Poltimore Inn. Guest groups include local businesses for training events and corporate presentations, large walking groups or for shoots are also welcome and it is necessary to book ahead so that we can cater for your specific needs. All groups are catered for including U3A and the local women's Institute so if you need a venue that can seat up to 60 people, please call us so that we can discuss your specific requirements. Our food and menus are flexible for different parties so that we can cater for your tastes.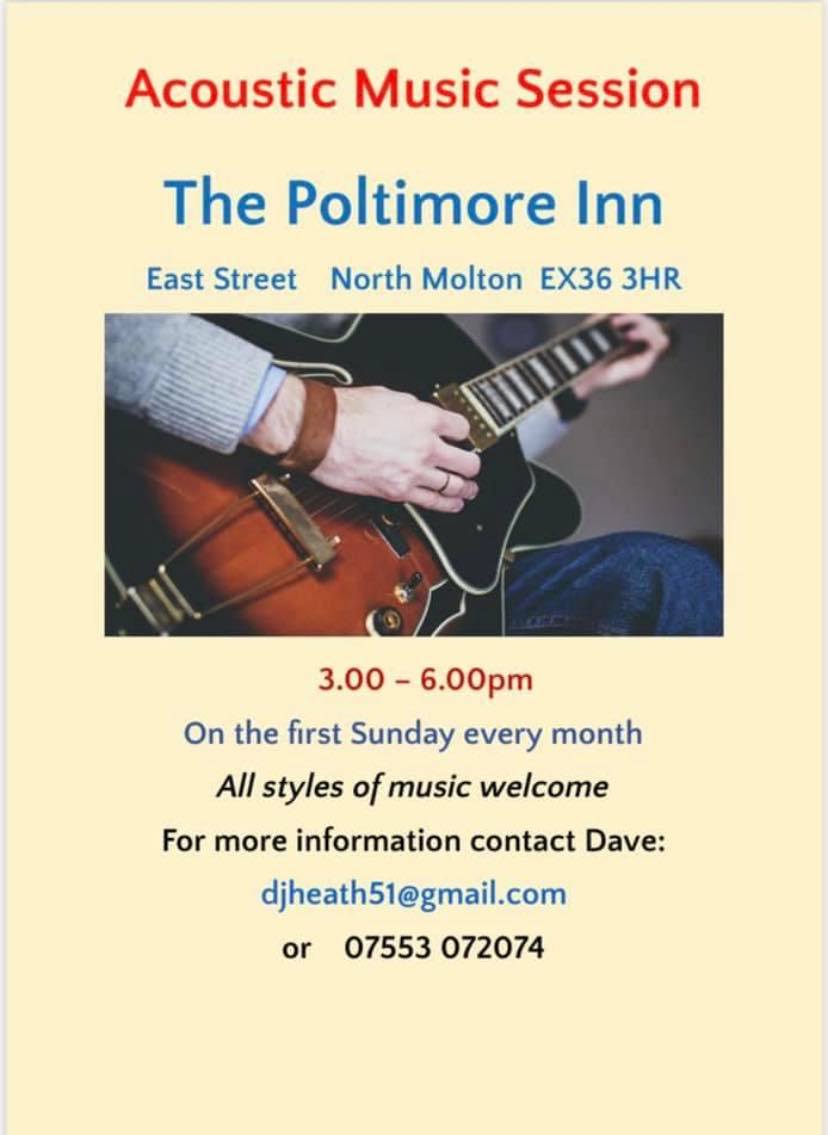 Acoustic Music Session
Here at the Poltimore Inn 
On the first Sunday every month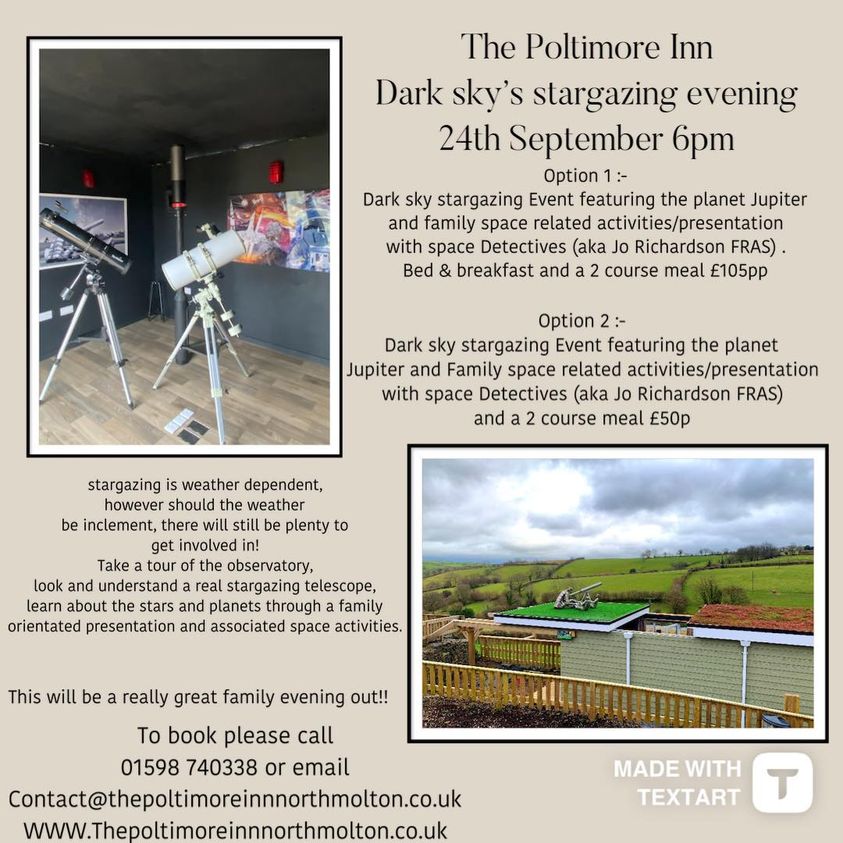 The Poltimore Inn Dark sky's Stargazing Evening
The Poltimore Inn Dark sky's Stargazing Evening 
To Book call 01598 740338
or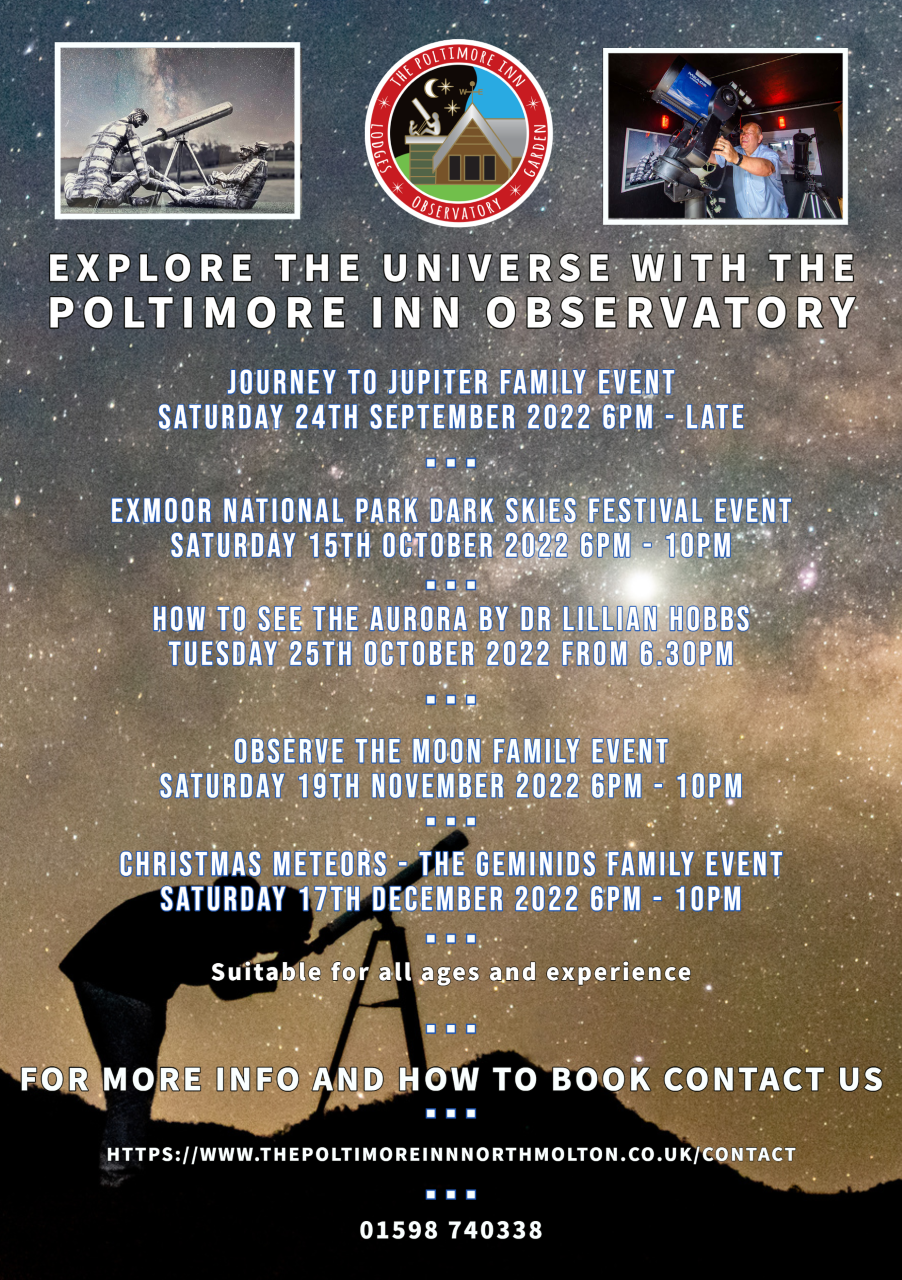 Explore the universe with The Poltimore Inn Observarory